Dodge Ram Cummins Intake Elbows
---
---
The Banks Power Monster Ram Intake Manifold offers unmatched technology, gains, and performance for 6.7 Cummins Trucks. This intake horn is 50 state CARB compliant, and offers provisions for all factory functions including the grid heater, without the restriction of the factory unit. 

WHAT IT DOES
The Monster-Ram Gen 2 improves airflow from the intercooler. It flows 72.7 lbs/min with
Banks' High-Flow Heater and Billet Intake Plate
compared to stock's 38.6 lbs/min MAF. That is a huge 88.3% improvement over stock!
The proprietary design raises boost without increasing back-pressure at the turbine. The result is a more responsive, power-efficient engine that offers more headroom than stock for higher horsepower applications.


There are two devices on your Cummins engine that increase air density; the turbocharger and the intercooler.

Anything in the system that doesn't create air density, cuts air density. We designed the Monster-Ram to get back that lost air density.
ITS ALL ABOUT
MASS AIR FLOW
The secret to the Monster-Rams performance is not just airflow, but the quality and literal weight of the air it flows. Your Cummins engine can only flow so much CFM through its 6 cylinders even at max RPM.

By increasing the mass of the air delivered to it, your stock-tuned engine will breathe more efficiently with less stress and set the stage for huge power gains when stacked with a tune.

HOW WE DO IT
Your Cummins engine consumes a massive amount of air and struggles to breathe through its tiny, squashed inlet. The stock horn causes boost loss at the same flow while the Banks Monster-Ram has a wide, unrestricted, free-flowing path.


Engineering a better solution
All other replacement manifolds compromise their designs because of the No. 1 fuel line.

The Monster-Ram uses a new line for added clearance, this lets it have a large direct opening and flow more air without obstruction.

All this without the need for retuning the ECM, just bolt on and go!


Monitor everything
If you have an existing iDash setup, the Monster-Ram has four 1/8 inch NPT ports for installing temperature, pressure, or flow sensors.


50 STATE COMPLIANT!
100% Performance and 100% Compliant
All emission systems are retained maintaining 50 State compliance and a CARB-EO.
---
2007.5-2012 Model Years: Currently Pending CARB Compliance
Black Finish: Currently Pending CARB Compliance
BANKS PREVENTS ENGINE FAILURE
The 6.7L Cummins Ticking Time Bomb
Due to heat, vibration, and time, a nut and stud from the factory heater grid has been documented to come loose and fall into the intake manifold.
---
Once this happens, it will roll downhill into cylinder #6, causing catastrophic failure that requires a complete engine rebuild or replacement from bent valves and damaged pistons.

STOCK HEATER
ALSO CHOKES PERFORMANCE
The stock heater grid restricts airflow as well, just to heat the air during cold engine starts. It becomes a magnet for soot and carbon buildup.
---
The older, longer, and harder you drive your RAM, the worse it gets.


For peak performance, the Monster-Ram includes a custom machined high flow billet intake plate. This plate is machined to the optimum thickness and features an over sized inlet that is CNC port-matched to the Monster-Ram for zero restriction and maximum flow.
MAKE WAY FOR AIRFLOW!
Banks engineers designed an all-new heating solution for the Monster-Ram that acts as an intake manifold pre-heater.


This new Banks exclusive coil heater sits vertically inside the Monster-Ram without hindering airflow and allowing the factory grid heater to be replaced with the Banks High-Flow Billet Plate.


This eliminates the risk of engine failure due to parts loosening and falling into the engine while maintaining OEM like cold weather engine start performance.
---
---
Improve looks, performance and airflow in your 5.9L Cummins engine with a Banks Monster-Ram Intake System. Proven to perform, this replaces the restrictive factory intake horn with a free flowing alternative. 
Monster-Ram raises boost without increasing back pressure at the turbine by Improving airflow from the intercooler. Result: a more responsive, fuel-efficient engine. Has six 1/8-inch NPT ports! Includes boost tube.
NO OTHER ELBOW BEATS BANKS
At Banks Power, just enough is never enough when it comes to engine airflow.
Maximum power, performance, and efficiency are the ultimate goals, but to make it all happen the engine has to breathe freely without needless restrictions.
Finding ways to pump your engine full of cooler, denser air has always been the key.
Our High-Ram intakes have always whipped the competition,
and now our new 3.5" Monster-Ram flat-out destroys even our own previous designs!
---
EXTENSIVELY TESTED
The Monster-Ram was designed using the latest in computational fluid-dynamic technology, tested on the flow bench and dyno, and finally proven in the real world where the rubber meets the road.
With its simple direct-replacement casting, Monster-Ram is instant power, performance, and acceleration gratification.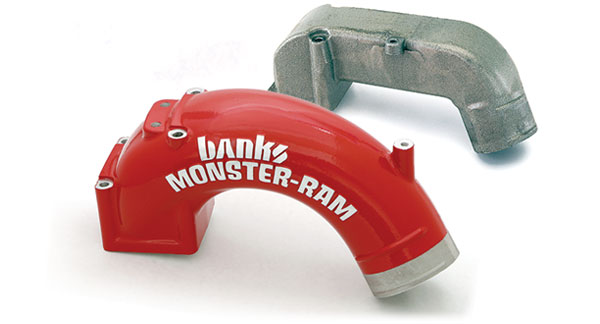 ---
MACHINED FOR PERFORMANCE
It's the perfect upgrade whether you're just starting out or working to build a serious, purpose-built machine.
With its six ports for pressure, temp or flow sensors, the sky is the limit for performance expandability.
Monster-Ram is CNC port-matched to the stock heater as well as the optional Banks Billet Intake Heater Delete spacer.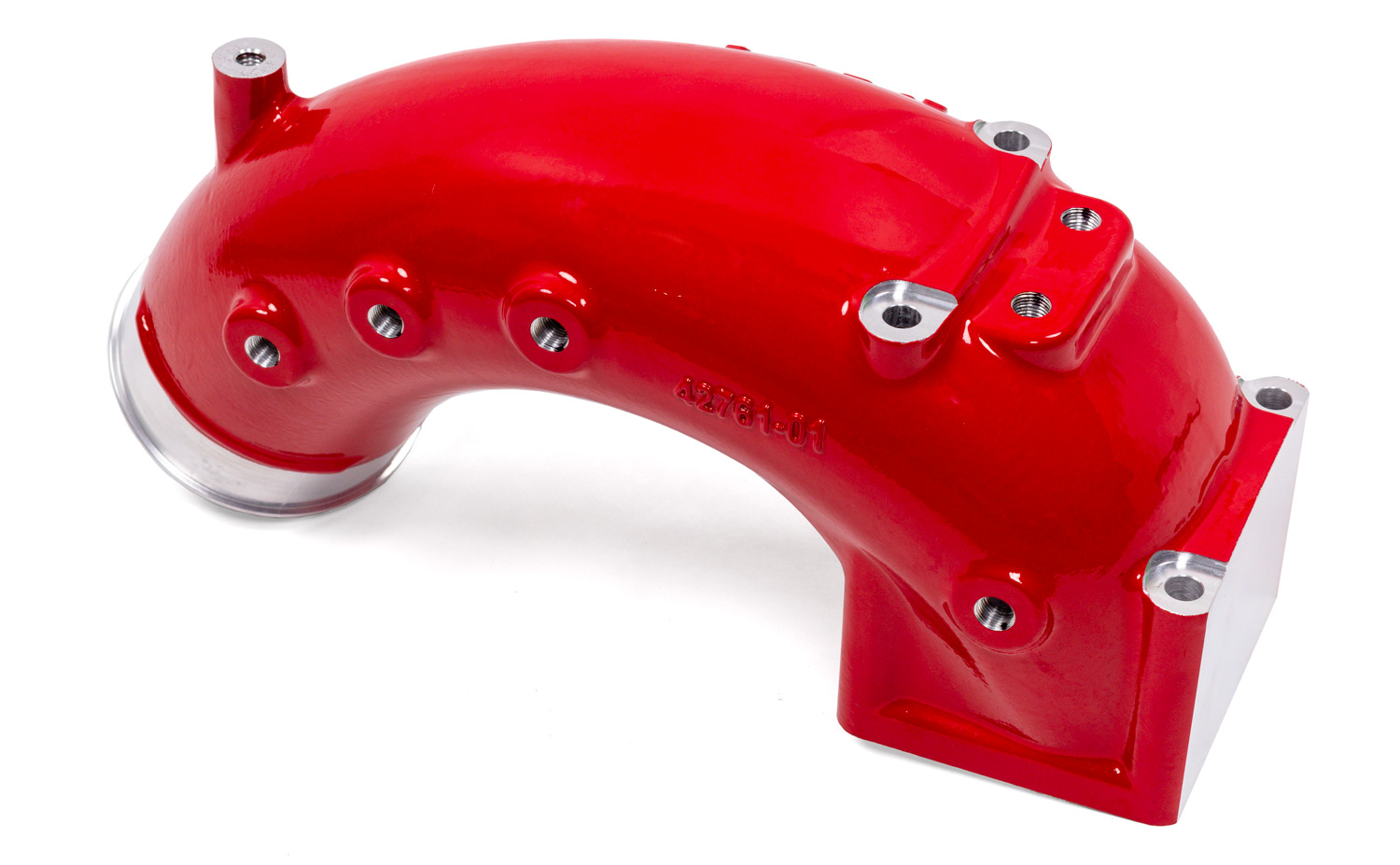 ---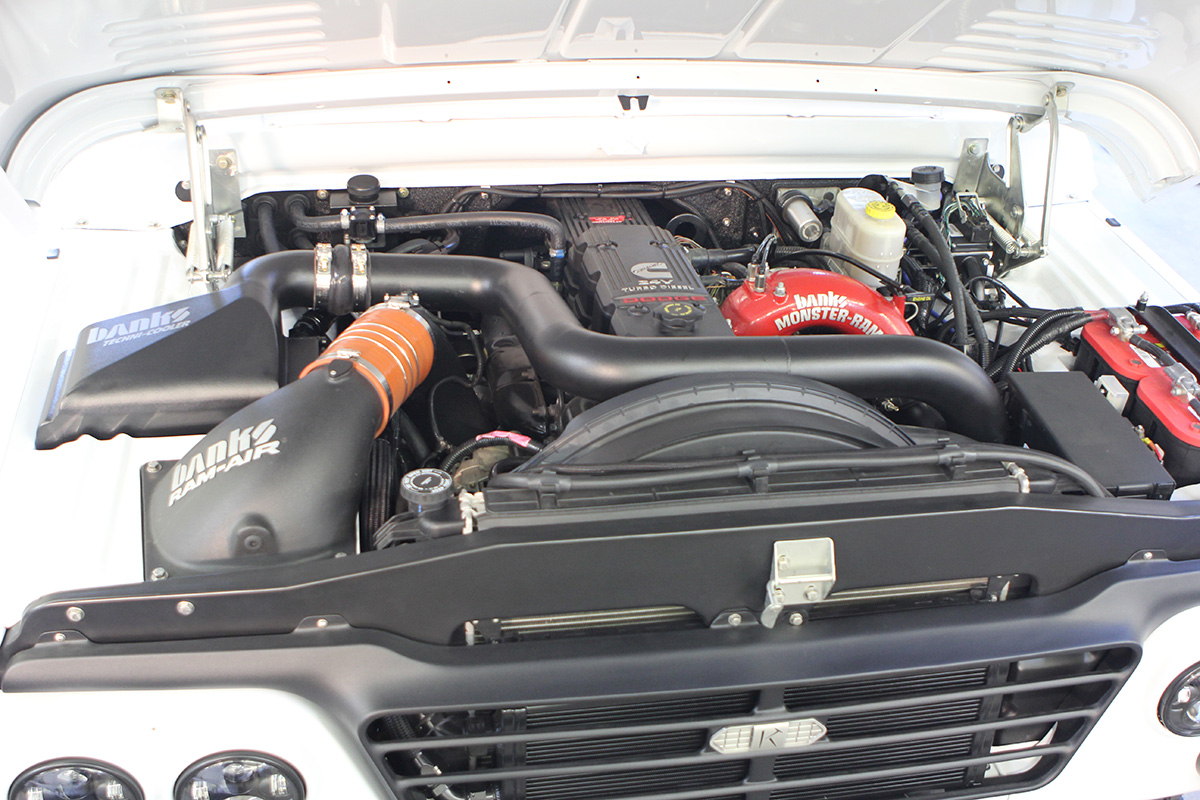 ---
FOR UNRESTRICTED PERFORMANCE
BANKS BILLET INTAKE HEATER DELETE
If you want another half pound of boost, our Banks Billet Heater Delete is just the ticket. And...unlike some setups, when winter comes, you can put the Heater back in.